Colonial Florist Blog
Faster Expanded Deliveries
Here's the story....
PINK
area represents our delivery area prior to 2021. The
GREEN
area represents our NEW EXPANDED delivery areas.
SAME DAY DELIVERY
$25 Flat Fee
*Order as late as 3 pm for same-day service
Living in the Orlando area our entire adult lives, we have seen incredible changes to land usage and traffic. We were here when Disney World, the surrounding hotels, and the entertainment parks were nothing but orange groves and woods. I-4 was 2 lanes going each way and you could get from south Orlando where we lived, to Sanford in about 25 minutes. Driving I-4 near downtown and seeing all of the different elevated roads and intersections looking like a bunch of suspended pretzels remind me of just how big Orlando is getting.
One of the consequences of this growth obviously has been traffic. We deliver to over 400 square miles of Orlando using our own drivers and vehicles, so getting to all the areas we used to cover became more difficult every year. We eventually had to cut back on some of the areas we covered, simply because we couldn't get there in a timely fashion, and in our view that made for bad customer service.

If you had a delivery to Longwood, Apopka, Oviedo, or many areas that fell outside our delivery zones we would either transfer your order to another florist near where you wanted the delivery made. The other choice was to give you their contact number for you to deal directly with them. The problem that we frequently ran into with trying to transfer the order to another florist was that the other florist charged more for the same products. Neither choice was desirable but, we just didn't have a good solution. That is until last year when we made a change that gave our customers the best of both worlds.

In May of 2021, we established a relationship with a delivery service that covered up to 25 miles from our location. I remember at the time I thought that this could be a game changer. After over 1 year and over 1,000 timely deliveries, it certainly has lived up to its potential.

The service works similarly to Uber, we put your delivery into the system and they pick it up and deliver the flowers. We can track every delivery and get real-time updates: when they accepted the delivery when they picked up, and when they delivered. The average time between requesting a pickup and when an arrangement gets delivered is an impressive TWO AND A HALF hours. This means we can take an order for Winter Garden or Oviedo or other outlying areas at 3:00 pm in the afternoon and make it there the same afternoon. Just to give you 2 examples from the last 2 days. I took an order for the JW Marriott at 2:15 in the afternoon ( 13 miles one way) The flowers were delivered by 4:08. This morning At 9:00 am I had a customer needing flowers in Oviedo (21.9 miles away )before noon, they were delivered by 11:00 am. As someone who knows how difficult deliveries can be, These times are incredibly impressive.

We charge a flat rate of $25.00 for each of these deliveries no matter where they go, and there are other benefits to this program as well. As I have stated earlier in the article, we frequently have issues placing the order with another florist for the same price as we charge. As a member of Teleflora, we carry many of the same products as other Teleflora florists. We have checked with many of the websites of the florist we would use to place the order and found many of them to be significantly higher. The difference between what we charge and their prices for the same product can range from 20-40% higher. This makes it cheaper to pay the 25.00 flat fee rather than having us transfer the order to a florist in the city where the flowers are to be delivered. Another benefit is that it is our flowers, made by our designers so you can be assured of the same quality and value that you would normally expect.

The cities that we have added to our delivery area are:
Winter Garden, Ocoee, Apopka, Longwood, Winter Springs, Weikwa Springs, Altamonte Springs, Lake Mary, Oviedo, Wedgefield, the North part of Kissimmee, Disney area (not on property), and Lake Nona.

We are very pleased and proud that we can offer a service to our customers that truly has a significant value and convenience.

So the next time you suddenly remember it's your wife's birthday or that a client is opening a new store or any of life's celebrations where flowers would enhance the moment. We can get there for you with quality value and now even better delivery options.
EXPANDED DELIVERY AREA
New delivery locations include: Altamonte Springs, Longwood, Lake Mary, Ocoee, Winter Garden, Oviedo, North Kissimmee, and Wedgefield (essentially a 25-mile radius from our address)
Micro Weddings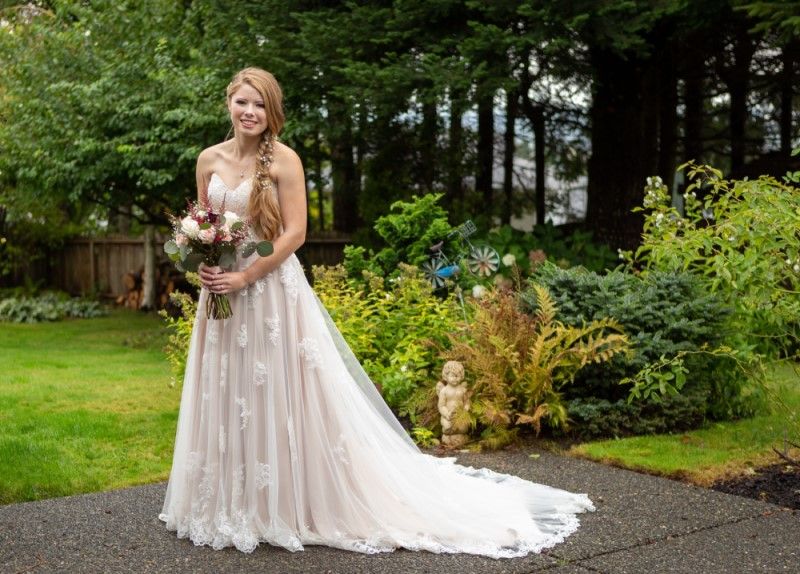 One of the things that I love about being an entrepreneur is that each day offers new challenges. Some of those challenges are easy to resolve and others require us to 'think outside the box'. This year has certainly brought an outside-the-box kind of challenge, and we have been constantly evolving the way we do business to keep up with the ever changing situation.

One of the most frustrating parts of this year has been watching how the pandemic has just squashed wedding plans for so many of our customers. I feel so sorry for these brides whose Happiest Day Of Their Lives gets put on hold indefinitely. They are left frustrated and concerned, wondering when their wedding plans will come to fruition.
Similarly to the challenges of running a business, brides are being forced to come up with different ways to move forward with their lives. Some are now choosing a more non-traditional and outside-of-the-box solution:
THE MICRO-WEDDING
A micro wedding is a much smaller version of their original plans. It may be a backyard ceremony with 3-5 people total or it might be an outside wedding with only 25 -49 people wearing masks and socially distancing. As this pandemic continues we are starting to see some weddings get back on track, albeit a much smaller track, but a track just the same. We have done about 3 weddings in the last month. All have been very small with a bridal bouquet and a boutonniere and maybe a couple of corsages for the mothers.
Actually, the Ultra Small or Micro-Wedding is something our shop has been accommodating for the last decade. We service approximately 100 weddings a year. An average of two per week. Most of our weddings have been small with many brides walking in on a Monday and saying, "I am getting married this Saturday!" We've even had them walk-in dressed up and wait for us to make a wedding bouquet on their way to the court house. Turns out we have been doing Micro-Weddings before COVID-19 made it a trend!


So, what are some of the steps involved in planning a Micro Wedding? Here is a link to see a news report on the Micro Wedding:
https://www.wesh.com/article/microweddings-elopements-are-emerging-wedding-trends-during-pandemic/32718863


Your Guide to Planning the Micro-Wedding
First, decide if having a small wedding vs waiting for venues to open back up is right for you and your fiancé. Once you have decided that a Micro-Wedding is the best route, the planning is very simple.


Location, Location, Location
There are many choices when picking a location for your micro-wedding: inside a home, a backyard garden, a lakeside park, a chapel at the church or a county park. Your options are limitless.


What to Wear
Dressing up or dressing down is your next concern. There is no wrong answer. Dress in what makes you feel good. Decide what is most important to you. Will extravagant apparel make the day feel extra special, or is simplicity and comfort a better fit?


Capturing the Moment
A photographer or videographer is the next consideration. You may consider a Zoom wedding.(My daughter who teaches voice lessons just did a virtual recital for her students, it was a smashing success and the families loved getting to see them perform even if it was on a computer screen) Your friends and family would love to watch your weddings with almost the same zeal and happiness as if they were there in person.


Flowers
You're getting married, flowers are a must!! But which ones? I would really like to mention a great little florist I know that has been doing these things for years and really works with brides to make their day special😊. Remember, the photos and videos of your wedding (including your flowers) will last a lifetime!

The Advantages of a Micro-Wedding
Some of the advantages of Micro-Weddings are: easier to plan, much less cost, ease in coordinating the date, having more money for your honeymoon (even if it is at a later date).
Is this a perfect solution? No, it's not but just like everything else in our lives this year, we have to look at new and different ways of getting things done that make our lives better.
If there is any way we can help with your new Micro-Wedding ideas and plans give us a call and see how easy it can be.


Good luck and be safe.
Tribute To A Veteran
When you look up the definition of veteran there are two basic meanings. One is someone who served honorably in a military service and the other is someone who has had a long experience in a particular field. Both of these definitions applied to Dad. He worked almost his entire adult life in the floral industry, which my brother alluded to in our Fathers' Day Blog, but he also was a Veteran of World War II.
Dad was drafted into the Army after the attack on Pearl Harbor. He was 5'6" and weighed a fit 145 lbs when drafted. He served in the Pacific Theater and ending up fighting in the Philippines. The Artillery battery that he was attached to used the 105 Howitzer. He was trained in the US, then shipped out to Schofield Barracks in Hawaii for final training, and then moved into the War theater near Mindanao. While in training, in Hawaii, he became best friends with Toby and Frank. They were training together and would often go with groups to a beach hotel in Hawaii to enjoy the ocean and a sense of tranquillity that they knew would end soon. He talked often of those quieter days on the island of Oahu before entering the war.
He told us many stories about his experiences, some good, some funny, and some frightening. I have always been sure he omitted many stories that he never wanted to re-tell, and to some extent, re-live. It is said that war is long periods of boredom punctuated by moments of sheer terror. I believe that that was Dad's experience as well. His artillery group was moved frequently, sometimes to positions to defend a beach, sometimes to attack an enemy stronghold. He was at times a forward observer
(someone who crosses into enemy territory with a radio and a tall antenna to observe the enemy camps and to direct fire of the 105's). Most of his funny stories came during those periods of boredom. They included pouring gasoline on duffle bags filled with beer cans using the evaporation of the gas to cool the beer, fishing off the beach with dynamite, and walking through 5-foot tall grass and seeing a King Cobra's head sticking up a foot over the grass. The effect it had on the squadron leader who was already afraid of snakes was something that always brought a knowing smile to Dad's face.
His life was threatened twice during the war. Once was on the transport ship going to the Philippines where the convoy was attacked by Japanese planes. A fighter plane was coming in just off the water headed directly towards his part of the ship. Rounds of the anti-aircraft gun pouring into the plane as it advanced. As the plane neared the ship my dad suddenly froze up. His hands locked on the railing in a moment of sheer terror, unable to move. With 100 yards left before it came crashing into the ship, the plane suddenly pulled up, went over the ship and crashed into the sea just beyond where the ship was. The other time was in a personnel carrier called a 6x6 driving down a jungle trail at night. There were 6-10 soldiers riding in the back when suddenly, from the tall grass next to the road, a mine was thrown into the back of the truck. Almost casually, the soldier next to where it landed in the truck picked it up and tossed it out. They all hit the deck as it exploded seconds later.
The friendships developed during those times were strong and unique due to the feeling of going through it together. Frank and Dad and their families remained as close as brothers throughout their entire lives even though Frank lived in Chicago and Dad here in Orlando. Toby never came home. He was killed a few months before the war ended and Dad never forgot or stopped missing the friend he came to love as a brother.
Most Americans during the war held that the Japenese were a hated foe and, in the soldier's hearts, deserving of whatever harm we could dish out to them. Dad's attitude was the same for most of the war but it changed suddenly one night. Dad's company was guarding a mountain road used for enemy truck convoys. One night a large convoy of Japanese trucks was seen coming down the mountain road with their headlights on and easily spotted. Dad's commander waited until they could see the first truck and the last truck at the same time. He then open fired on both ends of the convoy effectively blocking the rest from escape. The artillery then methodically worked their way from both ends to wipe out the entire convoy. It was seen as a significant strike against the enemy and Dad was awarded a Silver Star for his participation. The day after the destruction of the convoy Dad was assigned to a group of soldiers to clear the road so that it could be used again. No one in the group was prepared to see the carnage displayed as they cleared the road, pushing vehicles and soldiers off the side of the road to the valley below. Dad couldn't look at all these dead soldiers and not think about all the women and children who would never see their loved ones again. He believed that every one of his fellow soldiers came face to face with the aftermath and horror of war and were forever changed by it. He often stated that he was glad that this engagement was the last of his military career.
Dad went in at 145 lbs and was discharged weighing an emaciated 115 lbs. He suffered from bouts of Malaria. His parents and brother Jim cried when they saw him. Not only from relief that he had made it home but from the toll the war had exacted from him. It took a long time for Dad to regain his complete health. Many of his fellow soldiers suffered as much and more.
Dad faded back into normal society, met Mom, got married, and raised a family; just like most of the other ordinary men who answered the extraordinary call to defend their country. He never forgot nor, I think, ever completely got over his experience.

As we get close to Veterans Day we should all remember the ordinary people who answered an extraordinary call to protect and defend the country that they loved. Some who never come back and some who never get over the horrors of war. It is with profound respect and gratefulness that we extend our thanks to those who have served to protect our rights and privileges of living in America. God Bless All of You.
8 Tips for Choosing a Florist for your Wedding
Some of the things we want to discuss within these articles are the things we feel are important, but never really get addressed until someone comes into the flower shop. One of these topics is weddings.


There are many things to be considered when you are planning a wedding, and choosing a florist is one of them. We want to talk about a few of these things to make the process of selecting a florist a little easier for you during this very hectic time. There used to be what was referred to as "wedding season", a few months out of every year were most weddings took place. Our society has largely moved away form that and weddings have now become a year-round affair. As you undertake the planning process for the Happiest Day of Your Life, there are several things to think about when it comes to flowers: coordinating colors with your color scheme, the kind of look (or style) you want, budget, and choosing the right florist for you.
Every bride is aware of Pinterest!! Although it is a tremendous resource for ideas, there are Pinterest Pitfalls to approach with caution... For example, not all those gorgeous flowers you see are available year-round, while others may be incredibly expensive. Peonies and dahlias are prime examples of flowers often used in bouquets, yet they are not always affordable year-round.These flowers are at their best price and quality in the late spring and early summer. Although they may be available other times of the year, they are much more expensive and at times the quality is not as good.
When attempting to calculate the flower budget for your wedding, start by making a list of who you want flowers for: Your bouquet, attendants, groom and groomsmen, mothers, fathers, flower girls, decorations for the ceremony and the reception. If you have questions about cost or want to get general ideas for a budget, call your florist and ask questions. Most florists can give you price ranges for most everything providing you with a better idea of how to budget for your flowers.
Ready to choose a florist? Here's what to look for:
Make sure they are an established florist that has been around for a while so you know with confidence that they will still be in business when your wedding comes around.

Ask how many years of experience their floral designers have.

Meet the florist face to face to see how they are to work with.

Can they do last minute weddings or handle last minute changes?

Look at their reviews to see what other customer say about them.

See if they are willing to work within your budget and if they know the best way to achieve the look you want within your budget.

Can they handle multiple weddings at a time?

Do they offer delivery and setup?
When you are looking at bouquets and other flowers for your wedding keep in mind the possibility of substitutions for availability and cost. Most florists will guide you to flowers that are available at the time of your wedding. Lastly, when you are ready to come in and discuss flowers for your wedding, bring pictures of bouquets and flowers that you absolutely love so we can get a feel for what you like. At Colonial Florist we strive to work with you to achieve the look you want for your wedding!
Royal Farms demonstrates how your roses start their journey:
Father's Day Blog
With Father's Day coming up I would like to take time remembering our Dad.
As kids, we were fortunate in our choice of parents. Mom and Dad did family really well. Lots of our friends and their friends would find their way over for dinner or fun at our house. Our Mom was unflappable and Dad could interact with our friends.
When I started working at the flower shop during college I had a lot to learn about business. Dealing with your friends is very different than working with other employees, or with customers.
Dad had a lot of lessons for me about how to do just that, including taking an order correctly. His attitude and techniques for handling many issues in the shop are still my go-to way of approaching things. Perhaps his best lesson for me was how to listen to someone who has a problem until they finished. It sounds simple, but I still sometimes open my mouth too early.
When I was an adult and with my own family I started noticing other people paying attention to what Dad would say about a lot of different subjects . Even when I was a Boy Scout Dad started helping and because of his leadership abilities he ended up as the head of the troop committee for years and years. He developed their fundraiser of Christmas tree sales that still continues today. He joined the Florida State Florist Association and became the president and accomplished many good things that helped others. He was willing to work hard for worthy goals and did a good job of motivating others to help.
For me, his influence and training helped me decide what to do in many situations, both business and personal. His love for family and friends, including the 4-legged ones, was obvious to all who knew him. He welcomed with love all of our spouses into our Family and helped our individual families grow closer together. Many times this happened at our family property in Ontario, Canada. He and Mom would spend much of each summer together at the property. All of us and our families enjoyed spending time with them while they were there.
As time goes by I realize how lucky I and my siblings were growing up in a closely knit family.
I hope we are continuing his example. Thanks Dad (and Mom) for all you did for us.
Ed
Mother's Day Blog
As Mother's Day approaches, I would like to take a few moments to pay tribute to our Mother.
Being part of a family owned business the lines between home life and work overlap. Mom was always a mom first but then she also worked at the shop along with Dad, My uncle Jim, two of my siblings Ed and Kathy, and myself. We learned so many life lessons living and working together for years, lessons I still use and cherish.
For me, first and foremost Mom and Dad were open and gracious parents. There were always friends and extended family coming and going at the house. We never knew if there would be our original 6 or an additional 1 to 3 extra family or friends joining us for dinner on any given evening. Mom always considered it a plus when extra people showed up. I think all the kids learned this lesson well, and I like to think that you can feel those well taught welcoming feelings when you walk into the shop or into our homes. Family was the center of her life and she loved unselfishly and openly. Hugs, smiles and a gentle rub on the back were a constant with her.
Mom and Dad loved the flower business and the friendships she and Dad developed with other shop owners from around the country. She and Dad were very active in both the local and National florist associations and loved going to conventions and industry functions. As much as she loved the flower business, her family and home were always the most important thing to her.
Mom was also unflappable. She took all the changes, surprises, unexpected guests and crises that 4 of her kids 10 or so neighborhood kids and a husband could throw at her and it never seemed to phase her. I remember when growing up on Lake Conway in Orlando during summer break, Ed and I having no money but a boat and gas being 25 cents a gallon, it was cheap fun. We would entertain ourselves and our neighborhood buddies by catching and releasing alligators by hand at night. We would only tackle the small ones 1 to 3 foot in length (mostly). One night we had caught 26 alligators and decided to surprise mom by putting 3 of them in her bathtub. We waited expectantly the next morning for mom to take her morning shower and anticipated some fireworks. She went into the bathroom came back out and calmly said get those thing out of there or I will be late for work. No screams, no hysterics, no nothing. She never got upset when one of the snakes Ed was keeping for Reptile Study merit badge in Scouting got loose and made a home in the laundry room. It seemed to us that no matter how much turmoil was going on at our house she steadfastly navigated herself and her family towards some type of normalcy.
Her greatest gift to us was the many ways that she expressed and gave us love. Mom had a great sense for what you needed and then gave it to you with no pretense or grandstanding. Her default towards any of us was to love us, even when she didn't love what we were doing or saying. Her warm smile and gentle nature was a foundation that never wavered and it kept all of us grounded into the family. It is the main reason that decades after mom and dad retired. We are still working with each together, still functioning as a family together, even when we are arguing, we are still loving each other as brothers and sisters. Mom never complained about her life and she always had a grateful attitude.
In 1998, after heart valve replacement surgery, a blood clot broke loose and went to her brain giving her a massive stroke. She lost the use of the left side of her body as well as many other normal functions. Mom spent months in rehab learning to walk, eat and do the many things that we take for granted each day. Her positive attitude and unending smiles made her a favorite at the hospital. She never lost her faith nor her ability to love. I remember one time she was in ICU and the attending nurse was trying to adjust her breathing mask. Mom looked up at her, smiled, and gave the nurse one of her famous gentle rubs on the back. Even then she never lost sight of the simple and profound ways of expressing love and support.
Mom passed away in May of 2017 at the age of 92. If ever there was someone who passed on the goodness of mankind and made her corner of the world a better place it was mom.
And so as we approach yet another Mothers Day please take time out of your life to look back and appreciate the things that the mothers of this world have given to us. My wish would be that we would all share and emulate the love that was given to us by mom.